Tasha Tudor, one of America's most beloved author-illustrators of children's literature, has brought abiding joy to generations of readers. During her lifetime, she wrote and illustrated more than two dozen published texts while her artwork has now appeared in over one hundred different titles.
Project overview
Tasha Tudor and Family approached me with a suite of problems they were looking to solve. First and foremost, their online presence was spread between three websites none of which were mobile friendly (blog, store, history/community). Rebuilding the Tasha Tudor web presence with a centralized URL, brand identity, and responsive design was critical to reaching an international audience that has been moved by Ms. Tudor's timeless children's illustrations. 
Beyond the basics, I did extensive keyword research and information architecture exploration to reach new audiences while fostering an engaging user experience for new and returning visitors. Further enhancements included a comprehensive community engagement portal for advocates around the world to connect and share content (blog, events feed, recipes, and share my pet). The shopping cart was also overhauled and rebuilt and included product photography, a contemporary user experience that tips its hat to tradition and an easy checkout process
My Roles
Information architecture

Content strategy

Branding & design

Development

E-commerce

Blog

Events feed

Recipes

Share my pet

Product photography
Responsive, mobile friendly design

Interface
Branding & Design
I was very fortunate to have the Tasha Tudor Museum and family estate were located within driving distance of my office. Prior to going on site, I established the information architecture and was looking for a way to visually "map" different sections of the proposed site. The family was kind enough to give me a personal tour of the estate, including each building, her art studio, marionette theater, and "Corgi Cottage" where I took photographs that became an integral part of the texture of the design.
At the museum, I spent days going through her collection of paintings, drawings, and rare books to find illustrations and imagery that would represent different sections of the website. I photographed the work, cleaned up the pictures in Photoshop, and placed them throughout the site as visual navigation markers. Since many of her fans are repeat visitors, this gives the site deeply layered meaning. This discovery process informed the selection of a color palette and typography.

Insight
My approach to the site build
The most challenging part of this project was organizing and presenting the multitude of information in support of community building and sales. I thought of the navigation as circular - trying at every point to build out rich and meaningful content that would create an emotional connection for the user - while also making it easy to keep discovering new things. The shop is an extension of the lifestyle they are sharing and by balancing it equally among the other content, we achieved our goal of creating an overall authentic Tasha Tudor experience.

Interface
E-Commerce
The question I kept coming back to when building the shop is how can I keep the feel continuous? I didn't want the shop to look like Pottery Barn or West Elm; but, I did want it to work as well if not better than their interface. The first step was creating the Shop page which is flat collage comprised of both images I procured and images I photographed at their estate.
Once a visitor selects a shopping category, they are brought to a more traditional interface that shows all of the products within that area of the store. I did all of the photography with an assistant to make the images consistent and clean for easy browsing.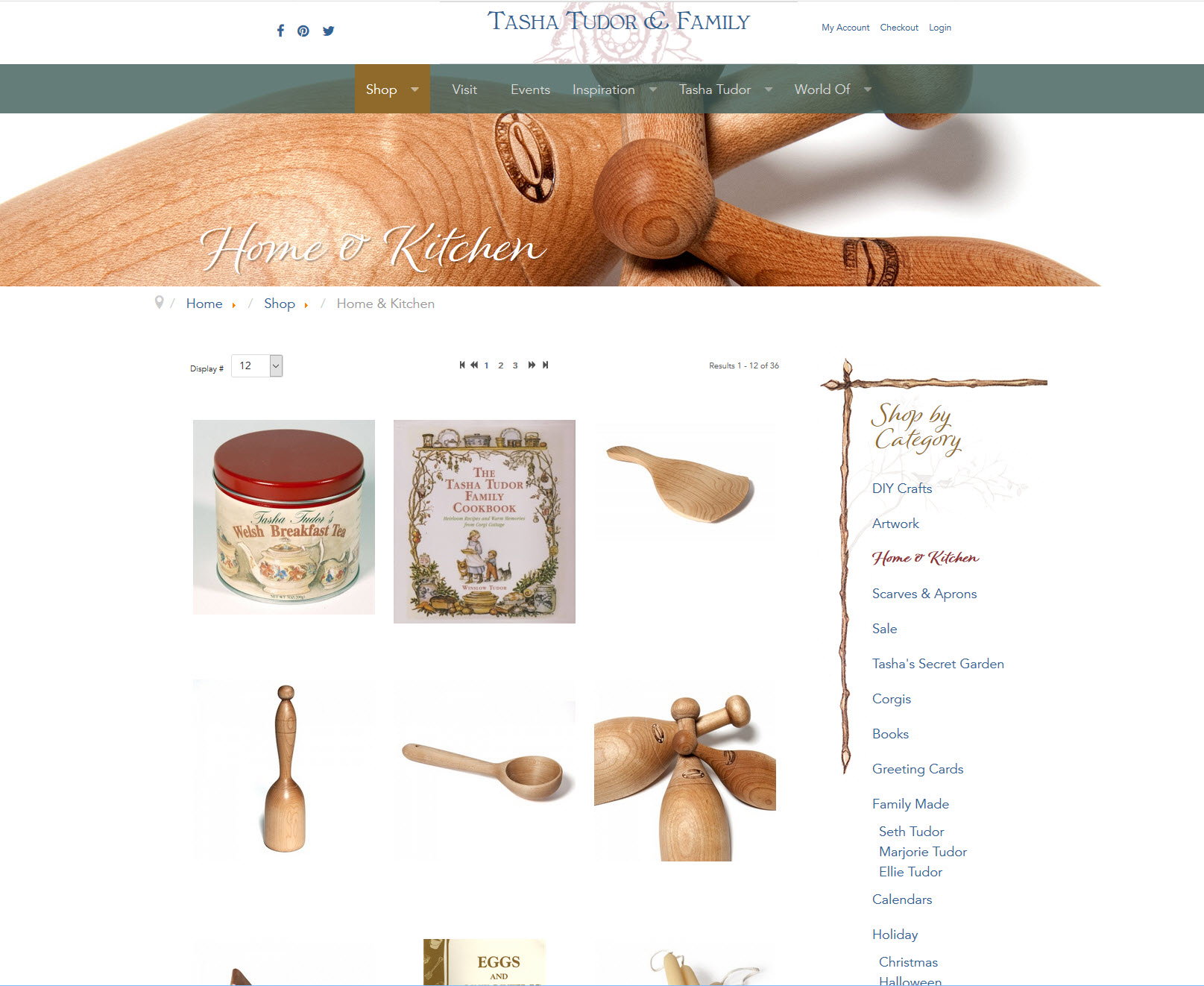 The checkout process supports international purchases and a variety of payment methods. Products do have "variations" like season, color, and size, as well as three price points: retail, wholesale, and cost, further complicating the build. Wholesale buyers are a special class of customers who can see and receive this price when they log in. End to end, the customer experience was considered, including the follow-up emails, invoicing and package labels.

Implementation
Content Construction
Events, Recipes, Corgi Corner - Share My Pet, Blog - Inspiration and Timeline are sections of the site that have distinctive content. To make the authoring process maintainable over time, I built forms specific to each area so their team could easily add and edit content. At this time, they manage all of the new content being added to the site.
The forms were then translated into front-end templates that display the information consistently, in the global style of the website. The challenge was mapping the fields into the designs in a way that makes the interface fun and usable. 
Product strategy
User research
UX design
Visual design
2017-2018 | Lead a team that incorporated metrics, personas, surveys, prototyping, and moderated user testing to redesign and build a web and mobile menu product for the college.
Information architecture
UX design
Visual design
UI development
2015-2017 | Design and build an ecommerce platform fueld by a subscription based arts collective model. End-to-end rebranding of graphic materials and web based products.
Content strategy
Visual design
UI development
CRM integration
2015-2017 | Complete brand redesign to update a legacy site and graphic materials with the goal of making the content more accessible to key decision makers within health care organizations.