Artrageus1 is a collective of artists, writers and musicians. The retail gallery and online store exhibits art that makes sense, art that makes fun and art that tells a story.
Project overview / Challenge
Artrageus1 approached me with a vision to design and build a brand and website as unique and nuanced as its arts collective. While the website design is infused with whimsy, the backend is comprised of an elaborate e-commerce system that depends upon online membership subscriptions for access.
Other artifacts include a ten foot sign, business cards, rack card and posters.
My Roles
Handcrafted animation

Branding & Design

Development

E-commerce

Membership site
Responsive, mobile friendly design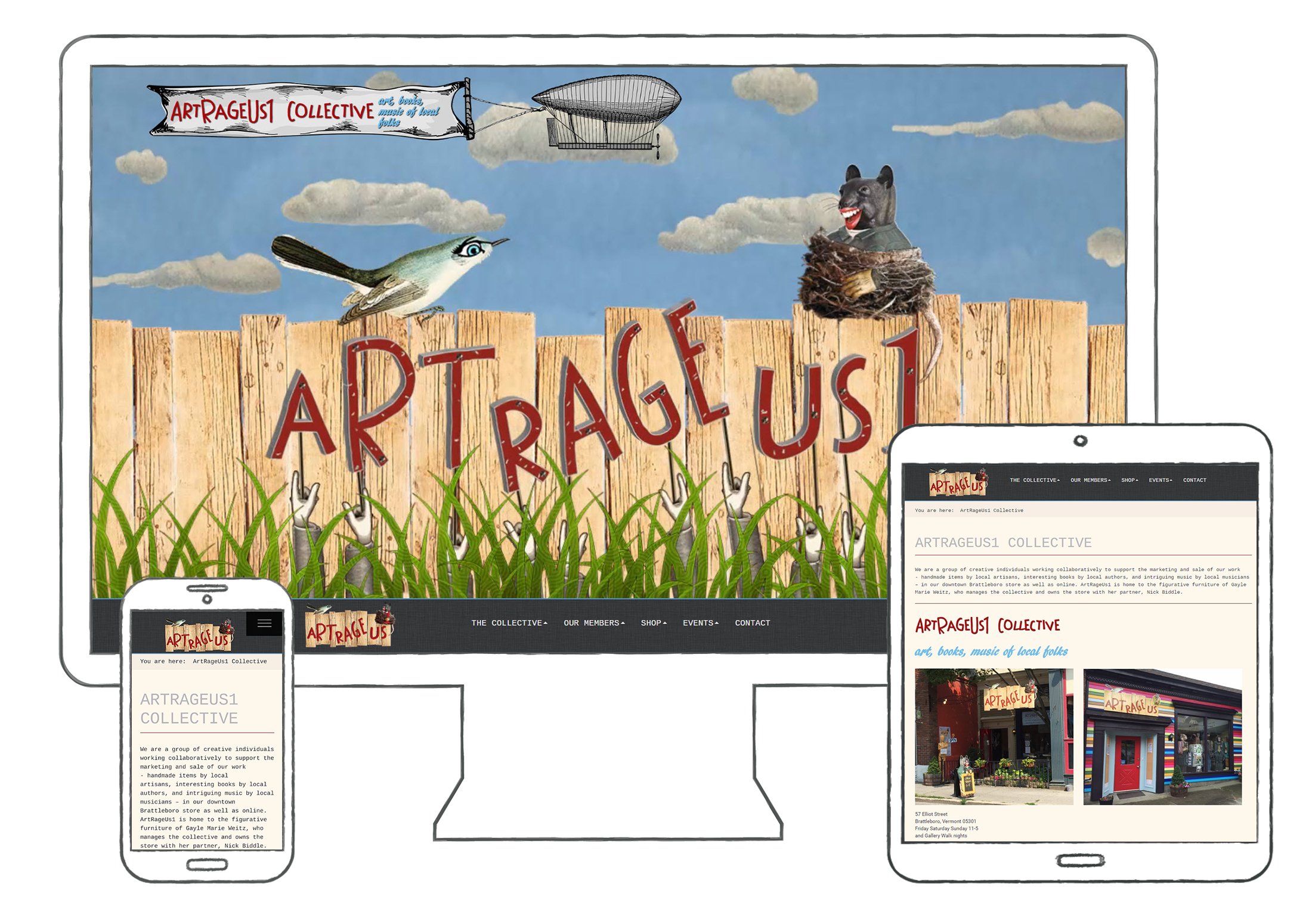 Interface
I built the animation in Adobe Premiere Pro using decoupage techniques. The concept is to conflate pop art with vintage lithographs and paintings to foster wonder, surprise and a splash of humor.

Implementation
My approach to the build
Because the gallery offers a generous commission to artists on sales, I devised a method to simplify operational costs by automating subscriptions. Once an artist is juried into the collective, they are provided a link to sign up for a subscription. This annual membership is tied to their access to collective documents and the e-commerce portion of the site. It allows the new member to add, upload and edit their products. Furthermore, when their subscription ends, they are prompted to renew through successive emails. If they do not, their products are unpublished and they can no longer make sales online.
Influence
Reduce overhead
I created a manager's dashboard page accessible with special permissions. By logging in, a manager can easily do their work including the oversight of member documents, products, and subscriptions. Managers can also update text throughout the website with inline editing tools. Finally, they can view online sales and pay the collective members with integrated reporting tools that utlize Paypal payment features.
Information architecture
UX design
Visual design
UI development
2016-2017 | Design and build an information architecture that unified an ecommerce platform, blog, recipe feed, and tours into a community-based, singular brand experience.
Information architecture
Art direction
Visual design
UI development
2015-2016 | Design a prototype and custom template featuring a modular, mobile-friendly user interface that elicits a broadway sensibility. Craft a content strategy (imagery, IA, and text that underscores Wann's propensity for collaboration across the disciples of songwriting, theatrical production, and TV.
Content strategy
Visual design
UI development
CRM integration (Salesforce)
2015-2017 | Complete brand redesign to update a legacy site and graphic materials with the goal of making the content more accessible to key decision makers within health care organizations.